Prestigious Classic Yachts graced the waters of the Clyde between 28th June to 5th July. This was the fourth gathering of the William Fife designed yachts. Twenty of these classic yachts, whose owners shared a passion and enthusiasm for Fife yachts, made this pilgrimage back to their home waters. The Dragon and Wheatsheaf emblem engraved in the bow of Fife's yachts is symbolic of the level of craftsmanship in each creation.
Two fabulous boats, Kentra and Astor, celebrated their 90th birthdays at this event. Kentra, a 100ft Gaff- Ketch had been in storage for nearly seven years, was re-launched for the regatta. Astor, an 86ft Schooner, sailed all the way from California for the occasion. Seabird and Oblio are more recent builds from William Fife drawings and confirm how these yachts have a place in modern times.
For some of their owners and crew, it was their first visit on the Clyde. For Mignon, itwas her fourth Fife Regatta, the only yacht to have competed in all of these special events.
Race One – Round Cumbraes Race
The fleet, divided into three classes, set sail for their first race of their week, the Round Cumbraes Race.
The race started in a south westerly with light, challenging conditions and throughout the day local knowledge came into play. The Truant, skippered by Ross Ryan of Crinan Hotel, took the early advantage from the tide close to the shore. As the breeze built the 8 metre Saskia, moved out ahead and her crew of upper Clyde sailors applied their skill and experience of their home waters to their advantage. In class three, the smaller Fifes, were in close competition and at the end of the day Mignon, owned by renowned yachting journalist Bob Fisher, secured first place. Among the Mignon crew is Largs based sail maker John Highcock whose local knowledge of the Clyde waters would be invaluable.
With a great day's racing, circumnavigating Great Cumbrae was an excellent way to kick off the event. The results of the day represent the local input with Class 1 winner Saskia, Class 2 winner The Truant and Mignon leading Class 3.
Race Two – Largs to Rothesay Race
It was all action as Solway Maid's spinnaker ripped in the first few minutes after the start. After a spectacular sail to the line right on the start gun she was looking fantastic however the classics were challenged by winds of up to 25 knots.
If it is a challenge on the large yachts then consider the extremes on the smaller Fife's with freeboard of only 2ft. Being so close to the water is exhilarating and very much a feature of these well designed craft. Bob Fisher, attired in his blazer and tie, was getting the very best from Mignon with crew Barry Dunning working hard as the yacht was surfing downwind.
Stephen Bennie, from Troon Yacht Haven, commented that the boats were pushing the limits of their design ability providing great sailing with Viola breaking her top speed by exceeding 10kts. The fleet headed north from Largs to Skelmorlie bank buoy, across to Toward Lighthouse and then towards the beautiful harbour of Rothesay where they anchored for the night.
Yacht Latifa, with a good percentage of Clyde based sailors, were welcomed by their skipper Mario Pirri. Mario's journey to Scotland is an example of sheer determination and strength. Sailing his 75ft yacht singlehandedly, he unfortunately suffered injury. He was not to be discouraged and got friends and family to safely deliver the boat to Scotland while he addressed his medical needs. Mario was now back on board and racing with his crew in all weathers here in Scotland. He relished every minute of sailing his fine vessel on home waters. It is such passion and dedication that keeps these yachts afloat which provides pleasure for those aboard and watching from ashore.
Todays results showed one of our guests yachts, Rainbow, a Lynton Hope design, was left chasing the class winners Mignon. Mignon scored her second first and continued to lead class 3. Class 2 saw a change in the leader board with Mikado, 1904, stamping their mark on the class with Truant having to settle for 2nd. Class one was again dominated by Saskia, with Sonata and Astor finishing behind her.
Race Three – Portavadie/Inchmarnock Race
Latifa's splendid port tack start across all of the other Class 1 yachts was an enthralling beginning to another day of racing for the Fife Regatta. Competitors from as far as Italy and California dressed for Scottish Sailing in full waterproofs and had a true experience of our west coast. The strong south westerly breeze reaching 30 mph at times gave exhilarating sailing for those on board and spectacular sight for those watching from the shores.
Class 1 and 2 boats left behind the lovely villages of Kames and Tighnabruaich after a superb visit. Mother Nature influenced class 3 today and their race was cancelled due to the strong winds and sea state. Prior to this announcement, Ayrshire Lass, the oldest of our fine Fifes had set off having made her decision to cruise to our destination, Portavadie marina. At 126 years she was the first to reach Portavdie after four hours of sailing, loving every minute of it and feasting on a fine supply of Glasgow made Tunnocks treats.
Class 1 winner was Latifa, the first of the regatta, now lying second overall. Class 2 continues to be closely contested between The Truant and Mikado, with Mikado claiming first place.
Race Four – Portavadie to Largs Race
A sail to be remembered was documented today for all involved in race 4 of the Fife Regatta. Pushed to their limits these boats showed how a century of the exceptional skills of William Fife created strong, efficient and majestic vessels.
Leaving the shelter of Portavadie Marina they gathered in Loch Fyne with sun peaking through dramatic skies reflecting beautifully off the varnished decks of American yacht Astor as she set off in her quest of victory on Independance day. Waking to a day of sunshine and wind between 15 – 20 kts is very pleasing for a sailor and most were not disappointed.
Latifa and Kentra powered through the start line giving a fine spectacle of classic quality. Continuing with her were class 1 boats Sonata and Solway Maid. These yachts share the same hull design but differ in their rigs. Sonata is the only yacht with an Aluminium mast and was completed in the 1950s with this more modern approach. Solway Maid having recently been lovingly refurbished was looking stunning surfing downwind with her spinnaker flying requesting everything of her crew onboard.
Class two boats followed suit in wonderful breeze and were a splendid sight against the back drop of Arran and the mountain ridge of Goatfell and the "warrior". Truant and Mikado were tussling it out at the front of their class with incredible boat handling and making exceptional speeds. Challenging each other with their sail plan Mikado remarked later in the sailing club bar that they used almost every sail they had and had not forseen so many sail changes to maximise on their days racing. Asked to sum up the day they said "if the week hadn't been extreme enough then today certainly topped it – it had everything"
The class 3 boats started separately in the East Kyle between Bute and Inchmarnock island. Being an hour later they dovetailed into the race and enjoyed phenomenal sailing close into the Bute shore and across into the home straight to Largs. It was not without eventuality as the breeze built with squalls exceeding 30kts. This was on the edge for these small yachts and they were forced to tack round instead gybing in order cope with the power in the sail, the rig and the sea. Oblio, owned by Gordon Turner, spectacularly took on the challenge of gybing and as an eye witness there were definitely a few wet wellies and assistance required from each other to keep all crew onboard.
Rounding the final headland of Millport Bay brought the yachts into more sheltered waters in the Largs Channel. It is a welcome feeling after what was described by one competitor as a "screaming sail, the type that is a fine line between exhilarating and terrifying!" It is without doubt that this will be a race remembered and talked about for a very long time and will find its own place in the archive stories of the great Fife yachts.
Results of Race 4 on the Fourth of July will give cause for celebration for Astor as she claimed 1st place and is tied on points with Latifa as they approach the final race of the series tomorrow. Mikado scored first in class 2 and leads overall and Mignon won continues her winning streak in class 3 with straight firsts.
Race Five – The King's Course
With moderate breeze the fleet cast off for the last race of the Fife Regatta 2013. With glistening seas they executed a race format known as the Kings Course dating back to 1891. This is when the development of yachts in Scotland was gaining worldwide recognition and such prestigious yachts as Latifa, Astor and Kentra are fine examples of the William Fife legacy. Watching boats such as Tringa, built in 1904 sailing a course which unknown to us her predecessors may have done is moving. The small class 3 boats took the inner diagonal loop of the course while class 1 and 2 did an outer square starting and finishing in Largs Bay. First boat across the water taking line honours was Mignon, 1898, co owned by Barry Dunning and Bob Fisher. This was a great achievement along with her five wins in the series.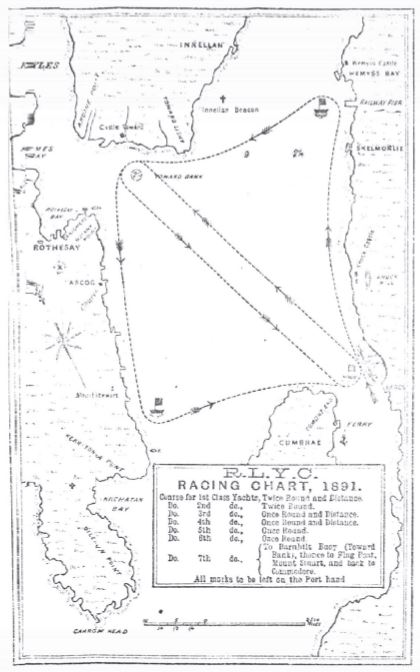 This seven day regatta with 5 race days has been a wonderful collection of heritage and fine sailing and the Kings Course was appropriate to close the racing programme. Event Director Fiona Houston commented " It has exceeded our expectations and has been a privilege to have been involved in assisting these yachts return to Scotland. For those fortunate enough to own or sail a Fife yacht it is super that they choose to accept our invitation to our event."
The final scores convey the close racing in class 1 with a single point separating winners Latifa (ITA), 8pts, and second position Astor (USA), 9pts. In third place was Saskia (SCO), 11pts, who had dominated in the early part of the week and despite having to leave in order to attend another event she remains on the podium.
Class 2 was won by Mikado (ENG) finishing on 4 pts followed by The Truant (SCO), 11pts and Viola (FRA), 11 pts.
Class 3 winner was Mignon (ENG), 4 pts, with Coralie (ENG),8pts and Rainbow (ENG),13pts.
Overall Results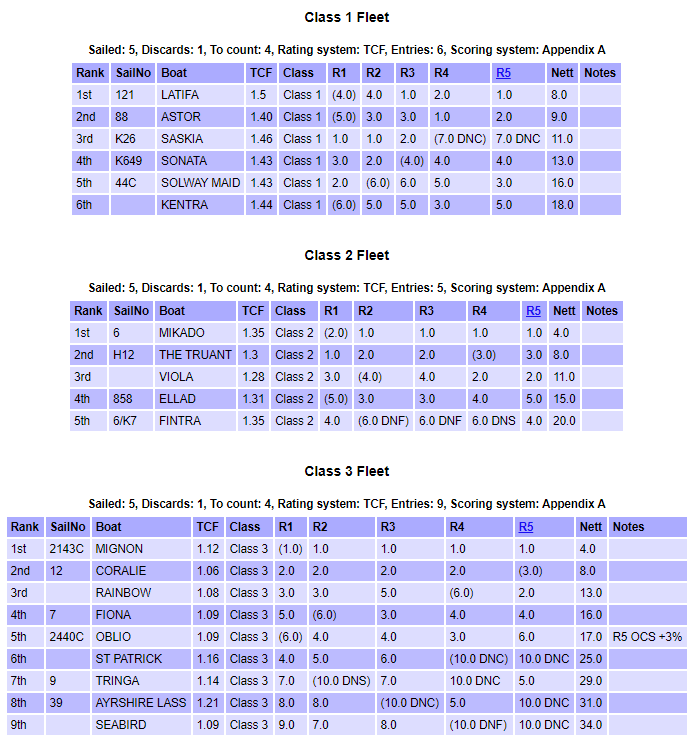 To view additional photos of the 2013 Fife Regatta, please visit the 2013 Gallery.
Please also see:
The Fife Dynasty :: 2013 Regatta :: 2008 Regatta :: 2003 Regatta :: 1998 Regatta